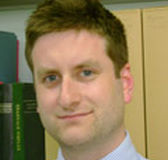 Christopher was born in 1981 and began his musical studies as a chorister at Westminster Cathedral, under the direction of James O'Donnell. In addition to the Cathedral's daily services, Christopher also sang for numerous concerts, television and radio broadcasts and several recordings.
Upon leaving the cathedral, he was awarded a music scholarship to The Oratory School, Woodcote, where he studied the organ with Quentin Thomas. After leaving The Oratory School, Christopher read music at Lincoln College, Oxford, where he was also Senior Organ Scholar with responsibility for the choir and the music in the college chapel. In 2001 Christopher toured with the college choir to the North of England and then to Venice in 2003. During this period he also directed the choir in a recording of music by the Wesley family, which was released in 2003 to favourable reviews. During his time at Oxford, Christopher managed to maintain an active interest in singing, especially with the new early music group, Magdala, directed by David Skinner, and on recordings of the music of Orlando Gibbons, and the soundtrack for the BBC's new Blue Planet series with Magdalen College Choir.
Following his graduation from Oxford, Christopher was appointed as organ scholar to Portsmouth Cathedral. During this time he performed on the Remembrance Day Songs of Praise programme and toured with the choir to Belgium and Holland, as well as to Caen for the 60th anniversary of the D-Day landings, which involved radio broadcasts for Radio 3 & 4. He has studied the organ with Iain Simcock, David Sanger and David Goode.
Christopher was appointed as organ scholar at Westminster Cathedral in 2004, accompanying the Cathedral Choir for the daily sung services, and, in 2005, for the live broadcast on the occasion of the Requiem Mass for Pope John Paul II. He has given recitals at Westminster Abbey, St Paul's Cathedral, Magdalen College, Oxford, and many other venues.
Christopher has been Director of Ealing Abbey Choir since 2006 and is Director of Music at St Benedict's School.