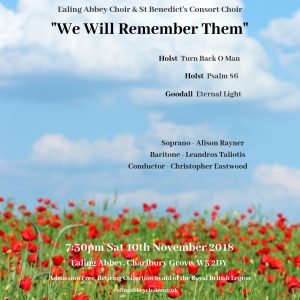 Remembrance Day Concert
7:30pm Sat 10th November, Ealing Abbey
Admission Free, Retiring Collection for the Royal British Legion
Ealing Abbey Choir & St Benedict's Consort Choir will be marking 100 years since the end of the First World War with a performance in Ealing Abbey on Saturday 10th November.
Commemorating all those who have lost their lives in conflicts, the concert will include Howard Goodall's contemporary requiem Eternal Light.
Requiems are traditionally a prayer for the salvation of the departed soul, based on the medieval church's Mass for the Dead but in Howard Goodall's contemporary take, Eternal Light reflects on those who are left behind. It provides solace for the living through the healing power of music, and its combination of the traditional Latin text, and moving poetry.
Howard Goodall describes Eternal Light, which was commissioned in 2008, as a requiem for the living, offering sorrow and understanding for those who are grieving. Using English poetry from the past 500 years and hymns alongside the more familiar text of the mass this is Howard Goodall's most popular choral work. Performed by the choristers and lay clerks of Ealing Abbey Choir and the Consort Choir of St Benedict's School, it will be led by the Director of Music, Christopher Eastwood.
They will also perform two pieces by English composer Gustav Holst  (1874-1934): Turn Back O Man, and Psalm 56
The Remembrance Concert will be performed by Ealing Abbey Choir & St Benedict's Concsort Choir, plus orchestra on Saturday 10th November at 7:30pm in Ealing Abbey.
Admission Free, retiring collection in aid of the Royal British Legion